What is Odealo?
Odealo is an innovative new Player-to-Player Marketplace which was launched in 2017. It provides a safe environment for Buyers and Sellers of goods and services in online games to meet and trade. With user-friendly offer management and transaction processing tools, and seamless implementation of advanced security measures, Odealo takes player-to-player trading to a whole new level. Online trading for gamers has never been so simple, secure, and enjoyable.
How does it work?
Odealo provides trading tools and a meeting place for users all over the world to buy and sell their goods and services related to online games. Odealo provides the web platform and handles the financial aspect of each transaction. Upon making payments to Odealo, you will receive the corresponding amount of Credits on your on-site balance. Credits are the official means of exchange on Odealo, and they have a fixed 1:1 rate to the US Dollar. Transactions made with Credits are similar to Escrow, whereas, transfer of Credits between Users and the portal owner is effective only after the Buyer's personal confirmation of the receipt of ordered goods or services. Odealo maintains a fraud-proof trading system, making it one of the most secure Marketplaces for MMO Gamers online.
Odealo's transaction system explained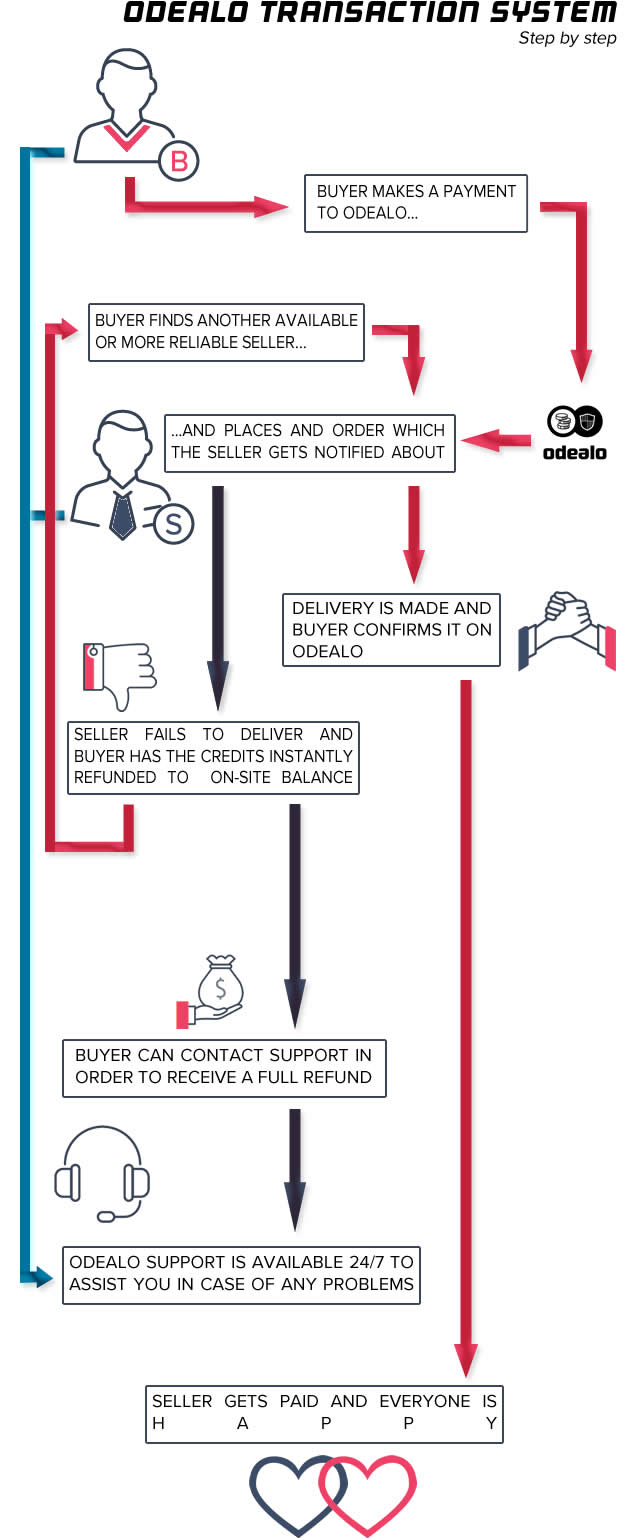 What Odealo has to offer?
In order to satisfy all the needs of its Users, Odealo implements a number of facilities and sets guidelines to maintain the most secure trading environment. Understanding the basic principles will help you trade comfortably and find enjoyment in your favorite games.
Odealo offers free account registration for global users. All you need to do is fill in a simple form with basic data and your personal details, confirm your registration by clicking on a confirmation link sent to your mailbox and you are ready to go.

You can also check out the Authorization page which allows you to gain higher Authorization levels, allowing you to make higher volume transactions across the portal or unlock various features. User verification is a free and optional process. However, upon placing an order which is above your current limit, your order may be pending approval by Odealo administrator and you may be prompted to complete specific steps before your order gets processed.

Each User has its' own Account Profile allowing Traders to build up their reputation on the website, and help Buyers to determine whether they are trustworthy partners for virtual assets trading. User's personal Profile displays:

User's Avatar picture
User's Account level indicated directly by a number
User's Authorization level displayed on the color bars below the Avatar picture
User's main scope of activity - whether he is a Buyer or Seller

Users can deposit US Dollars by one of the methods available and receive a corresponding amount of Credits on their on-site balance which they can use to make transactions on the website. Credits have a 1:1 fixed rate with US dollars. Payments can be done by one of the methods available which include:

- which is our primary payment card gateway which allows you to pay using Visa, Mastercard, and Maestro cards
- Google Pay allows you to pay using a payment card linked to your Google Account. This gateway is also operated by PayU
- Ecommpay is an alternative payment card gateway that allows you to pay using Visa, Mastercard, and Maestro cards
- you can pay using your Skrill Wallet balance, VISA, Maestro and AMEX cards linked to it, or other local payment methods offered within the Paysafe group
- Webmoney is also available as a payment method which allows you to use your WMZ Wallet's balance to make payments to Odealo - temporarily disabled

Payments via all the methods listed except for Webmoney are made against a payment processing fee. After your funds are already in the system, paying with Credits has no additional fees or surcharges.

You can freely browse through offers thanks to intuitive website layout and subcategories customized for each specific game's needs. After you put items in your cart, you will be asked to input your character/account name or other information required for deliveries depending on the game and product or service specification. Make sure you pick your server correctly and input the right character name.

Paying for items in your cart can be made using one of the methods listed above or Credits available on your account. Odealo Balance appears as a payment method in your cart if you are fully able to pay for the items in it. Currently, it's not possible to mix payment methods so you may have to split your orders if needed.

The transaction system on Odealo is similar to Escrow and orders are completed after Buyer's personal confirmation. Transfer of Credits between Users and/or portal owner is effective instantly after Buyer's confirmation, or after three days if only shipment confirmation has been filed by the Seller. During that three day timeframe, the Buyer can either confirm the delivery as well or report any issues with the product. This transaction system allows Odealo to maintain a nearly 100% success rate of all orders made with less than 0,1% of transactions being subject to customer complaints!

As a Buyer, make sure to never confirm delivery of products before actual delivery is made, and if the Seller insists you do so, please contact a site administrator as soon as possible!

Odealo handles the financial aspect of every transaction. The transfer of Credits between Users and/or site administrator is done automatically and instantaneously. After the Buyer's confirmation of receipt of items as-described, the Credits are instantly transferred to the Seller, and on the other hand, after an order gets canceled, the Buyer will receive a refund in form of Credits that are instantly credited to his on-site balance.

All fees are also deducted automatically. There is a fixed 4% per transaction fee which is charged only after the successful resolution of a transaction. Fees aren't charged for canceled orders from any of the parties.

Users with appropriate Authorization levels may request withdrawal of funds. Withdrawals are available to Users' accounts in the following systems:

- withdrawals to verified Skrill Wallets are made at 8% + 1 fee;
- withdrawals to Webmoney's WMZ Wallets is possible at 8% + 1 fee;
- withdrawals are also made to Payoneer Accounts and prepaid cards at 6% + 0 fee. Additional surcharges may be applied by Payoneer for accepting payments in that system;

Users with Credits on their accounts that are part of an "unspent" deposit or canceled transaction are eligible to receive a full refund without any additional costs. Make sure to contact site administrators for that.

What can you Buy and Sell on Odealo?
Users are allowed to make offers related to sell any kind of virtual goods or services, which sale does not violate any of the principles laid down in the Odealo's Terms of Service, rights of third parties, the laws applicable to the Portal Owner and the User. Posting offers is possible only in the game titles listed on Odealo, in four main categories: Currency, Items, Power Leveling, and Accounts. Posting offers in specific categories may require the User to attain a higher authorization level, including services listed in the Power-Leveling category and Accounts.
Currency

The Currency Market is the place where in-game currencies are listed. Many games have different currencies, and each currency usually has its own exchange ratio and unit converter. Currencies may include among others Gold, ISK, Silver, Money in your favorite games. For in-game currencies, quantity and the per-unit converter are most important and no detailed Item description is usually required.

Items

The Items Market is the place where all items are listed. The most popular items in this category are Weapons, Armors, or various accessories your virtual characters can use in MMORPG games like World of Warcraft, Runescape, Path Exile, and many others. This market may also contain other tradeable goods such as Pets, Skins, Collectibles, or alternative in-game Currencies that for some reason didn't fit the Currency Market's specification.

Power Leveling

The Power-Leveling Market is the place where all character leveling, boosting, or tutoring services are listed. Offers on this Market include predefined level ranges which you specify upon purchase. Most services on this Market are for virtual characters in typical MMORPG games, you can also find offers related to training professional skills, abilities, or other attributes a certain game may feature.

Accounts

The Accounts Market is the place where in-game accounts are listed. In this Market, Sellers have to provide all necessary information which will allow the Buyer to gain control over the Account or provide character transfer between in-game Accounts if such is available in the specified game. A set of additional information and high Authorization level is required to post offers in the Account category.
What Makes Odealo Secure?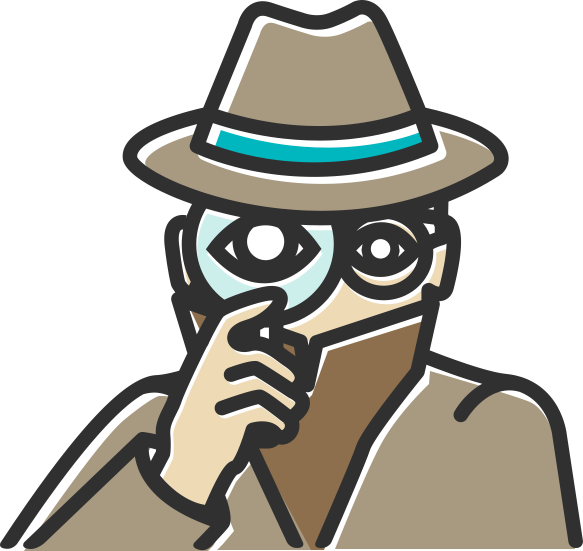 Odealo takes responsibility for the safety of each transaction. We help users confidently determine whom they want to trade with. All users (Sellers and Buyers) have detailed User Profiles that display their Account Levels, Authorization Levels, Feedback Scores, Transaction Ratings, and Badges they have been awarded for their on-site activity on Odealo. This awareness of whom you are dealing with, and the way our system works, guarantees the highest safety of each transaction. Odealo securely handles the User Authorization and Payment Verification processes, offering an undisturbed trading experience for all Users.
It all sounds great! So how much does it cost?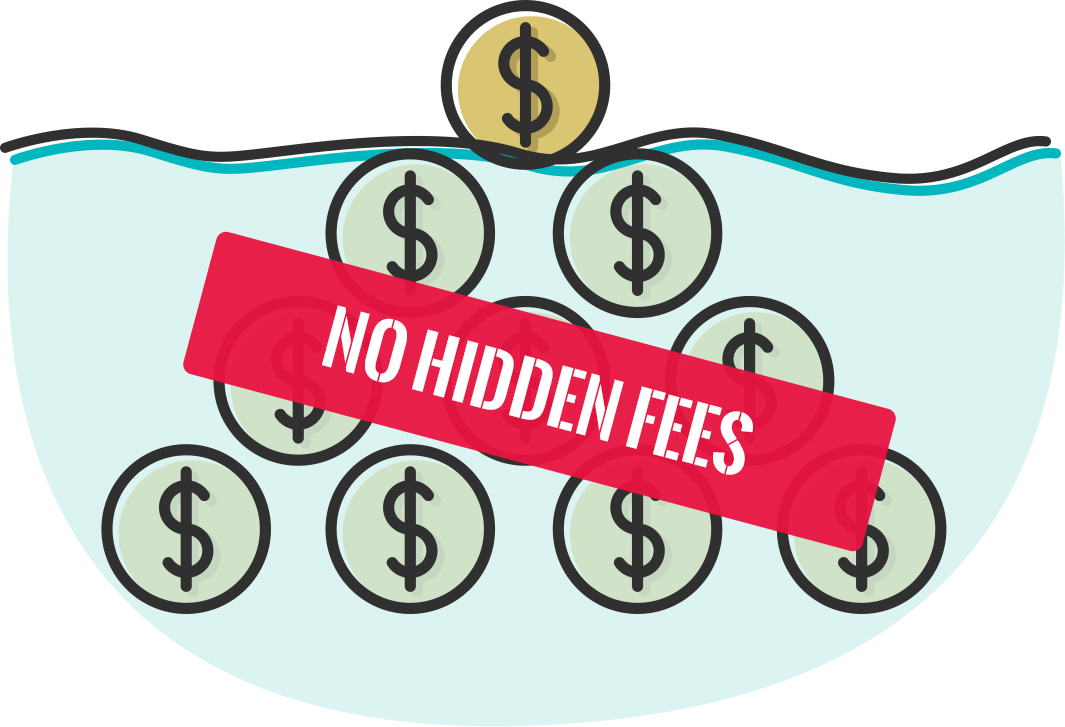 Odealo account registration is free of charge. Posting offers is also free, and there are no other hidden costs or fees. Fees are charged when making deposits of funds (with the exception of Webmoney), after successfully completed Transactions, and when requesting Credits' withdrawals. Odealo's fee system is transparent and very easy to understand as you start using the website to trade yourself!
What types of payments are accepted?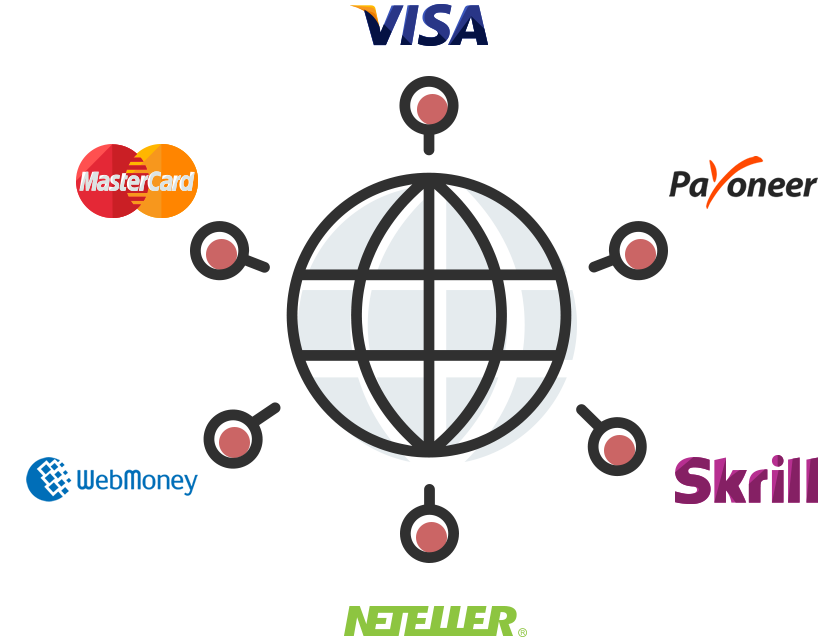 Odealo supports the most popular global online payment services and solutions, including Visa and Mastercard payment cards, Payoneer, Webmoney, and Skrill. You can pay directly with your digital wallet, or if you do not have one, you may also pay via bank wire transfer, credit/debit card, or other services like Neteller which are supported by the listed providers.
I'm very interested and excited to begin trading - how do I join Odealo?
You can create your own Odealo Account for free in less than 30 seconds using the "Register" button on top of the site. If you are a new user, we also invite you to take our tutorial, available right after your first login, which explains Odealo's basic features and walks you through the site.